A patient, Sharon, went to a breast surgeon with a small blemish on her breast. It turned out to be nothing, but during her examination the surgeon discovered, in a totally different part of Sharon's breast, a suspicious lump and advised surgery.
Sharon, an intelligent, articulate woman, believes that physical ailments can be overcome by healing energy. So she decided to defer surgery for two months and first try herbs and alternative therapies.
Before leaving the surgeon's office, however, Sharon asked, "Doctor, what was that blemish that brought me here in the first place?
The surgeon, who six months ago would have told Sharon, "That blemish was merely a pigmented epithelial lesion of no mitotic potential, of no clinical importance," instead told Sharon, "That blemish was your very own angel giving you a wake-up call."
Sharon had surgery the next morning. The diagnosis was cancer. Sharon's surgeon's skill as a communicator, as much as her surgical skills, saved Sharon's life.
Sharon's surgeon is one of the thousands of physicians who have been trained on Kaiser Permanente's Four Habits Model, a communication-skills framework.
In my last article I wrote about improving the patient-doctor visit through mindful awareness. Kaiser Permanente (KP), one of the nation's largest not-for-profit health care providers, is doing just that.
KP is training clinicians to be more fully present and engaged with patients through transforming the long-held, but poorly-used, office visit staple — the medical interview. Kaiser Permanente is teaching physicians communication skills.
Medical Interviewing
Kaiser Permanente newly-hired and long-standing clinicians have the opportunity to experience the Four Habits Model in a half-day, one-day or four-day intensive workshop.
The model teaches four key habits, or behaviors: 1) Invest in the beginning of the visit and build rapport, 2) Elicit the patient's perspective, 3) Demonstrate empathy and 4) Involve patients at the end of the visit in designing a treatment plan. The pay off: physicians become more effective and successful in their work and patients get better health outcomes.
On average, physicians conduct 120,000 to 160,000 medical interviews — the conversation that takes place during an office visit — in their practice lifetime. Yet often physicians don't think to ask questions beyond the scope of a patient's immediate problem. The medical interview is primarily task-oriented.
As a result patients often don't think to offer, or may feel too intimidated to volunteer, sometimes-critical information. The very information that creates more accurate diagnoses and more effective treatment plans.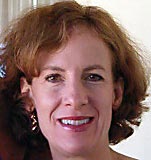 In 1990, Terry Stein, (pictured) an Internal Medicine physician at Kaiser Permanente in Northern California, led the effort to create a one-day workshop that offered physicians training and tools to specifically deal with patients who were angry or wanted tests or treatments the physician felt were not in their patient's best interest. It struck a chord. Over the next few years Stein and her colleagues crafted a practical approach to help physicians use the skills they were learning consistently. That resulted in the Four Habits Model.
Dr. Stein, now Director of Clinician-Patient Communication for The Permanente Medical Group, shared her motivation. "Early in my career I saw that I needed a repertoire of skills beyond my medical know-how to do a good job. We all need to recognize each other as people and be sensitive to our patients. Sometimes it's not easy given the number of tasks and many aspects of a patient's health we want to address during a visit. Sometimes we have to be reminded."
The Four Habits Model is based on a high-quality conversation and a collaborative partnership. "Just one simple lesson of the model," Stein says, "is reminding clinicians of the importance to talk to patients in their own terms, not in our medical jargon.
"The result," Stein says, "is the quality of diagnosis goes up, which impacts first-time right treatment, which impacts health outcomes, and also helps to deepen the trust between patient and physician."
Another result is patients feel seen and heard.
The Four Habits Model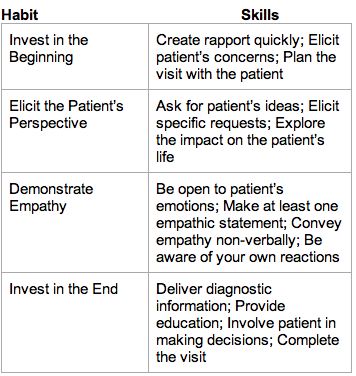 ©2003 by The Permanente Medical Group, Inc., Physician Education and Development
Given the time constraints many physicians feel they don't have time to conduct visits this way. Yet a research study by the University of Western Ontario shows that physicians who are sensitive to, and explore patients' emotional concerns, on average take one minute longer to complete visits.
Another impediment Stein remarked is, "Medical training tends to emphasize biomedical knowledge. What's clear from our research, as well as practical experience, is that a physician's interpersonal skills need to be as strong as their technical expertise. We've noticed that the Four Habits Model plays a very important, and sometimes missing, educational role in professional development."
Tracking results in patient satisfaction for more than 10 years, Kaiser Permanente has seen a significant rise in patient satisfaction among patients who see physicians trained in the four-day intensive workshop. Also, patients who see physicians who haven't been exposed to the Four Habits Model, but display similar behaviors, are more satisfied than patients who see more task-oriented physicians.
Physicians Report Effectiveness of the Model
A Kaiser Permanente physician who uses the Four Habits Model in her obstetrics and gynecology practice says, "It's the best way to get at the patient's real reason for a visit, which sometimes never surfaces because a patient doesn't know how to say something, and the doctor hasn't built the trust for her to feel it's OK to try." When this physician saw a new patient who was complaining of vague abdominal distress, she used her training and made certain the patient recognized her concern and empathy. The patient then volunteered she had an abusive spouse.*
"Unlike many doctors in primary care, I now look forward to seeing patients whom I know are angry," says a behavioral pediatrician. "When a medical assistant gives me the "heads up" that a parent is upset, I actually look forward to the challenge. I approach them with concern, really try to connect with them, and make sure they know I understand why they are upset and how I can help within my role. Almost without exception, they feel relieved that they are noticed and immediately calm down."
A physician says, "Before the Four Habits model I was much more defensive when patients would be angry, especially when it was about problems with a previous doctor. I thought I could just make them understand what that doctor was doing. But after the Model I understood patients need to feel that I understand what they've been through, and that regardless of the previous provider's intentions, that visit was lacking. Now I explicitly let the patient/family know that I will really try to make this interaction meet their needs."
The Quiet Revolution
Dr. Stein's quiet communication revolution that began 20 years ago has only gained increasing support within Kaiser Permanente. Over the past five to 10 years KP has held communication programs for all of its doctors in Northern California and an adapted version of the Four Habits Model is part of leadership training and graduate medical education for residents.
Over the past year and a half Kaiser Permanente has also been using the model's principles among its Northern California medical staff employees — doctors and support staff — to help them work together as a team and treat each other with greater empathy.
The Four Habits Model has been taught by numerous other organizations including the Cleveland Clinic and Indiana University School of Medicine and made its way to Europe in Norway and Germany. Remarkably, no money has exchanged hands, just a sharing of the model.
Given the following:
Clinicians who've taken the four-day intensive workshop report that they are more confident, more fulfilled, experience greater professional satisfaction and are less stressed by using the skills of the model.
Improved health outcomes are associated with behaviors consistent with the Four Habits Model.
Most patients report knowing their doctor cares is as important to them as what their doctor knows.
I am left wondering. Why aren't more organizations doing something similar?
One last thought. As chronic illness in particular increases in America, how patients are treated is, and will be, as important as the treatment itself.
*Story derived from The Wall Street Journal.com, "Teaching Doctors How to Interview" by Laura Landro, September 21, 2005
Neither Dr. Stein nor anyone at Kaiser Permanente has asked me to write this article.