DRI believes the BioHub is the next breakthrough and perhaps the final breakthrough.
Scientists at the renowned Diabetes Research Institute (DRI) at the University of Miami may be just five to seven years away from curing Type 1 diabetes. The institute is taking quick and dramatic steps toward what may finally be a biological cure for type 1 diabetes, the DRI BioHub.
The BioHub is an engineered "mini organ" that will house insulin-producing (islet) cells that, like normally functioning islet cells, sense blood sugar and release the precise amount of insulin to maintain normal blood sugar levels. "It will mimic the insulin function of a normal pancreas," Dr. Camillo Ricordi, DRI's Scientific Director and Chief Academic Officer, told me in a phone interview. "It will restore natural insulin production for any patient, no matter how long they've had diabetes."
[youtube]http://youtu.be/RJGNctH26hI[/youtube]
The DRI is initially focusing on the BioHub's use in patients with Type 1 diabetes. However, it may also be applicable for a population of patients with Type 2, as the additional islet cells would help normalize blood sugar levels.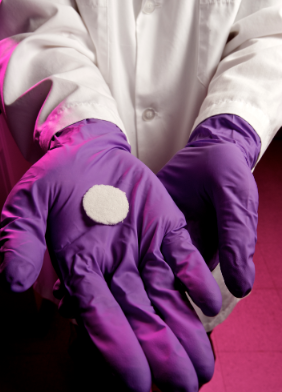 The BioHub model (size of a quarter) on purple gloved 
hand. Islet cells can exist in this silicone sponge like disc
that's compatible with the body or be put in a vein in the 
abdomen that's tied off into a sac with its own blood supply.
(Photo courtesy of DRI.)
All Needed Technologies Coming Together
"This is the first time I feel the pieces of the puzzle are all falling into place," said Dr. Ricordi:
For the first time we have the convergence of all the different technologies we've been developing over the years, and that we need, those dealing with autoimmunity, cell sources and auto immune suppression, to have a biologic cure.

We have a system for drug delivery in the local micro environment, successful anti-inflammatory strategies to prolong the success rate of islet transplants and we're making BioHub materials that we'll soon submit to the FDA. Plus, our experimental models tell us we're moving in the right direction, toward transplantation without immunosuppression drugs.
Overcome Islet Cell Transplant Barriers
The BioHub, if successful, promises to overcome the three obstacles that islet cell transplantation has not — a steady supply of cells that can be harvested from multiple sources, an environment where the cells will reside that is biologically supported, and no need for anti-rejection drugs.
The BioHub would be placed at a site in the body that would give the new insulin-producing cells adequate space to receive proper nutrition, oxygen and protection from inflammation, a far better home for them than the liver, the currently used site for islet cell transplants. The BioHub will be a bioengineered, new pancreas-like home so that transplanted islet cells have a much better chance of thriving.
"If we can identify an optimal place within the body to place the BioHub, then I believe this disease is totally reversible, which has been the DRI's ultimate goal since our inception," says Luca Inverardi, M.D., deputy director of translational research.
Right now one of the sites being tested is the omentum, an apron-like covering over part of the stomach and intestine, which is protective, plentiful with blood vessels, and would physiologically be similar to how insulin is released in non-diabetic patients.
Current Timeframe
Dr. Ricordi is very careful to say he doesn't want to make promises he's not sure he can keep in terms of a hard-and-fast timeframe for widespread clinical use. "The jury's still out as to how we will treat thousands of patients, and I want to know how to cure millions and millions."
However, the DRI has already met the FDA's requirements to start the process toward research and development, and the first human trials with the initial component of the BioHub and housing materials are expected to take place within a year.
Having the DRI Federation, scientists from Canada, Europe and Asia, working in concert with DRI, also promises an efficient and hopeful timeline, including overcoming unexpected obstacles. "We will know within a year or two if what we have works and if we have identified the ideal source of insulin producing cells," said Dr. Ricordi.
For those of us who've had Type 1 diabetes any length of time, we all remember being told the cure was five to 10 years away. For me that was 41 years ago, and Dr. Ricordi is very aware of the promise that's been made to so many.
"In 1985 we felt we were around the corner from a cure," Dr. Ricordi said, "so I don't want to raise false hopes." But he is hopeful, and dedicated to the pursuit of a cure.
"Now I think we can make islet transplants work long-term without continuous anti-injection drugs, just by engineering this micro organ in a site that can provide protection to the cells without affecting the rest of the body. I am confident," said an urgent-pressing Dr. Ricordi, "that this approach may move cellular therapies and biological replacements far enough ahead to bring us to our final goal, the cure for diabetes."
Originally published on Huffington Post.