Heart awareness month – that's this month – started out with a bang. Heart-health was all over the web and we were reminded that obesity, high blood pressure, high cholesterol and triglycerides (symptoms that typically accompany type 2 diabetes, also known as metabolic syndrome are markers for heart disease and put you at risk for coronary events.
For the general public, maybe you learned that every 29 seconds an American suffers a coronary event, and about every minute someone dies from one. Cardiovascular disease is also the cause of more deaths than the next six causes of death combined.
For people with type 2 diabetes, I learned that cardiovascular disease is the leading cause of diabetes-related death.I also learned from cardiovascular surgeon, Robert Chilton, that type 2 diabetes is already a cardiovascular disease with all the risk factors for heart attacks and heart disease. Moreover, the widely held glucose-centric approach to managing diabetes must broaden so that physicians and patients manage heart-health just as aggressively.
I met Dr. Chilton at an Amylin Pharmaceutical seminar. Chilton, and four other medical professionals, Dr. Louis Aronne, Clinical Professor of Medicine, Weill Cornell Medical College and obesity expert; Dr. Donna Ryan, Obesity expert, Pennington Biomedical Research Center; MEd Molly Gee, Dietician, Baylor College of Medicine; and Dr. Matthew Wintle, UK, Director of R&D, Amylin, presented evidence making the case that physicians need to pay greater attention to lowering the risks for coronary events in type 2 diabetes patients not just lowering blood sugar.
Lowering blood sugar does not significantly impact heart-health and most people with type 2 diabetes already have cardiovascular disease and the risk factors for a coronary event.
Chilton says, "People with type 2 diabetes have a two-to-four-fold risk increase of stroke and coronary heart disease and a two-to-five-fold increase in risk of heart failure. That means if you have type 2 diabetes you will likely die of cardiovascular disease."
Data in The New England Journal of Medicine suggests that diabetic patients who've not had a heart attack have as high a risk of having one as non-diabetic patients who have. This in itself, the article's physicians conclude, provides a rationale for treating cardiovascular risk factors in diabetic patients as aggressively as in non-diabetic patients who've already had a heart attack.
Chilton also says patients with type 2 diabetes show cardiovascular risks even before their diabetes diagnosis. Jane Seley, diabetes nurse practitioner at New York Presbyterian/Weill Cornell, also said, "Most people with pre-diabetes already have cardiovascular risk factors and the shame is at this point they're generally not advised to make any lifestyle changes or be on any medical protocol."
What was striking about Chilton's presentation, beside his gripping photos of clogged arteries, was his passion. "This disease cannot be cured by stents, drugs or bypass surgery," he said emphatically. "It can only be cured by public health. If we make better food choices, cut the fat, lose some weight, and exercise." Patients who've had procedures are back in Chilton's operating room for another within a few years because they haven't made such changes.
Exercise, along with weight control and healthy eating, is an often overlooked cornerstone of heart-health says Chilton, whereby he treated us to an interesting and little known fact.
Exercise releases nitrous oxide into the blood vessels which creates a teflon-like effect in our blood vessel walls. This prevents plaque from sticking to blood vessel walls and significantly reduces the risk for heart attack.
What was chilling about Chilton's presentation was learning that while once the majority of his patients were smokers, today they are diabetics – and they are younger and younger. "I see kids whose arteries have so much atherosclerosis they look like the arteries of forty-five year old men."
While Chilton's advice is not new, his and his fellow Amylin presenters' urgency that doctors more aggressively address cardiovascular risk in type 2 patients, is.
We have a national epidemic of obesity and diabetes and, perhaps soon, cardiovascular death. Look at the path: "Patients who gain weight tend to increase their blood pressure. It only takes a small blood pressure increase, about 3 mm" according to Chilton, "to significantly increase the chance of a heart attack."
So while heart month is over, whether you have diabetes or not, think about making it heart year. Get your vitals checked and work on the ones you need to get under control. An initial prescription to eat less junk food and more fruits and vegetables, and move more, is one we can all benefit from.
Just walking, as they encourage patients and visitors to do by using the stairs at Alexandra Hospital in Singapore, is a great beginning to help your heart stay strong for all the years to come.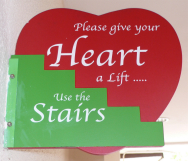 And in ending, I can't stress enough that if you saw the actual photos I did of clogged arteries in patients young and old, you would understand how important this truly is.
Note: I sent this article to Dr. Chilton a few days ago for review. He wrote me back saying, "Sorry for delay…interesting the delay was 5 MI (Myocardial ischemia – reduced blood flow to the heart) patients and 4 had diabetes! bob
In full disclosure Amylin is working on a drug that will help control cardiovascular disease risks as well as glucose without producing weight gain. I am not being paid by Amylin nor have I been asked to write this article.
Originally published in The Huffington Post